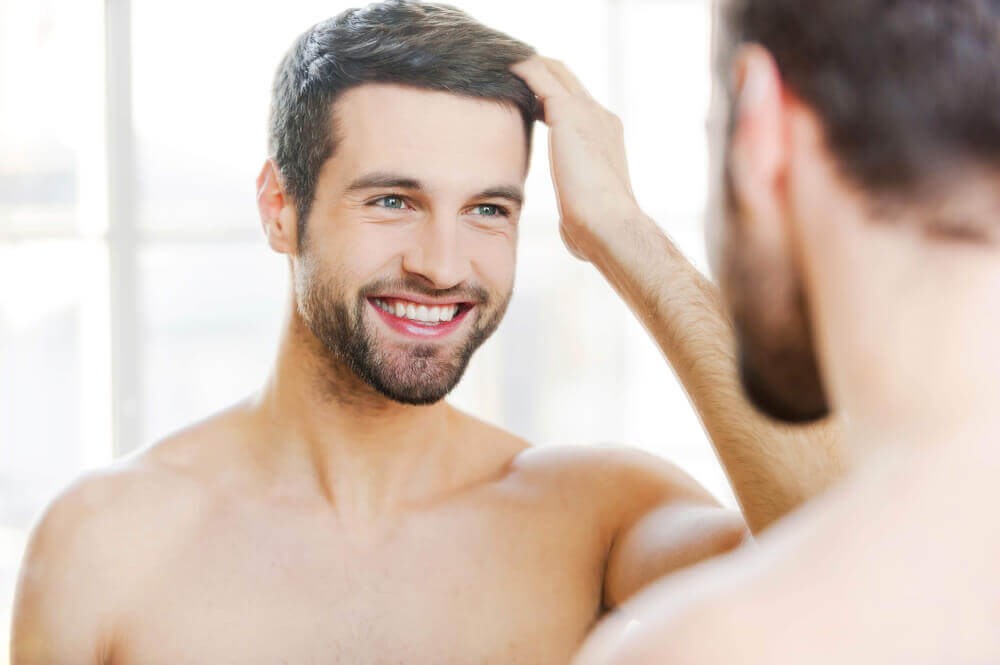 New Jersey men and women dealing with hair loss or hair thinning issues can find it hard to accept such a change in their appearance. Hair restoration techniques and treatments are on the rise in popularity. Both men and women struggling with hair problems are seeking to find solutions to help restore their hair so they can feel confident again. With today's medical advances in hair rejuvenation, patients are now able to halt hair loss and strengthen their locks without surgery.
The board-certified plastic surgeons at The Peer Group are excited to offer hair restoration solutions to their patients in the Florham Park and greater New Jersey area. PRP therapy has been around for decades and is now being utilized to help people with hair loss. This latest hair therapy technique offers both men and women an option to restore balding or thinning hair without the need for surgery. It can also assist in triggering new hair growth while stimulating the hair shaft giving patients better outcomes. The experts at The Peer Group want to give you some helpful information about this new hair restoration technique so maybe it can be the right solution for you!
What is PRP therapy?
PRP therapy is a regenerative treatment that uses a person's own blood supply to stimulate new growth or help with a "healing" type process. PRP therapy has been used in the medical community to help patients heal from such issues such as injured ligaments, muscles or tendons. Now PRP therapy is being used to trigger natural hair growth by increasing the blood supply to the hair follicle which in turn increases the size of the hair shaft making a patient's hair thicker.
The PRP process
If you are a man or woman dealing with hair loss or hair thinning issues, then PRP therapy could be a non-invasive solution for you. It is a 3-stage process:
Stage 1 - Blood is taken from a patient

Stage 2 - Placed in a centrifuge machine that spins the blood in order to separate it into 3 parts--platelet -poor plasma, platelet -rich plasma and red blood cells

Stage 3 - The platelet-rich plasma blood is used for the PRP therapy treatments
Injecting the target area
The platelet-rich plasma blood is the key to this new technique. It is injected into the target areas of the scalp that are dealing with hair loss or hair thinning issues. The plasma rich blood supply is thought to stimulate new hair growth and act as a healing agent to the areas that are "damaged" hair follicles. Even though PRP therapy is fairly new to the hair restoration game, it is growing in popularity as both men and women are seeing results!
Low risk procedure
Since PRP therapy utilizes a patient's own blood supply for the hair therapy treatments there is no risk of any communicable disease. Still this hair restoration procedure does involve injections so should be done by a trained, experienced professional like the plastic surgeons at The Peer Group. Injections, of any type, carry a slight risk of infection, injury to nerves or blood vessels and scar tissue. Consulting with a skilled professional is the best option to ensure you have the best possible experience with your PRP therapy treatments.
The PRP treatments
Since this is a fairly new treatment option for hair restoration it is currently being recommended that patients do at least 3 PRP therapy treatments. Those PRP sessions should be 4-6 weeks apart. Patients also need to consider follow up or maintenance PRP treatments every 4-6 months in order to keep hair follicles and skin in the target area rejuvenated so more hair growth is promoted. Following your doctor's instructions is key to getting the most out of your hair therapy treatments.
Not likely candidates
Men and even some women deal with hair loss and the medical community is trying to find new solutions to give people the help they need. Most PRP providers, like The Peer Group, will reconsider helping patients with hair loss treatments if they are heavy smokers, drinkers or are on blood thinners. Other unlikely candidates are individuals prone to infections or are dealing with other life-threatening conditions. A full medical history background will be done prior to any PRP therapy treatments in order to make sure individuals are viable candidates to get the best results.
Hair loss or hair thinning issues are more common for men, but even some women struggle with this dilemma. Hair loss can be emotionally crippling for some people and finding a solution to give them back their hair is a priority. The experienced plastic surgeons at The Peer Group are excited to offer this new hair restoration technique. Helping both men and women patients, in the New Jersey area, feel more confident and younger is their main goal behind offering this hair growth treatment.
If you are experiencing balding or thinning hair, then we invite you to call or schedule a hair loss consultation with the The Peer Group today. Our New Jersey area plastic surgeons are clinical experts on hair restoration and can offer you cosmetic options so you can feel good again about how you look! PRP therapy treatments are a new idea about how to regenerate hair growth so you can possibly have a full head of hair again!