The Peer Group Plastic Surgery - Skin Care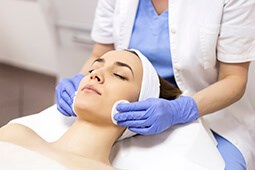 Today's advanced skin care and skin rejuvenation treatments can help you have the beautiful skin you want, and keep it that way. The best way to have a youthful appearance for many years to come is by caring for the health of your skin. At The Peer Skin Care Center in Florham Park, Morris Couny New Jersey, we are devoted to reducing skin damage brought on by age, sun exposure, and other factors through a variety of advanced skin care treatments and products.
About the Skin
Your skin is made up of two layers, the epidermis (the top layer), and the dermis. The epidermis is approximately 1/1000 of an inch thick, and since it's directly exposed to the effects of the sun, pollution, and other environmental agents, is often damaged. This damage obscures the skin's clarity, tone, texture, and color. Exfoliation, one of the most basic skin rejuvenation techniques, removes the top layer, exposing the younger, healthier skin of the second layer, the dermis. However, the vitality of the dermis also affects the appearance of your skin. A healthy lifestyle can help keep the dermis in the best condition possible. Exercise, eat a balanced diet, get adequate rest, use of a sun block, avoid smoking, and limit alcohol consumption, and you will have healthier skin.
Skin Care Consultation
You will meet with one of our specially trained skin care consultants during your initial consultation at The Peer Skin Center. Our skin care specialists together withour physicians can help you set realistic goals and help you realize your desire for healthy, young-looking skin. We design a skin care program to meet your individual needs after conducting a thorough evaluation of your skin and reviewing your cosmetic goals. During your consultation, a VISIA® Complexion Analysis ie performed which enables us to see underlying skin conditions caused by aging, sun exposure and environmental triggers.
Skin Care for Laser and Surgical Patients
The skin care consultants at The Peer Group in New Jersey are dedicated to helping our patients achieve the best possible results from their facial plastic surgery and laser procedures. We've developed our skin care programs in consultation with our board-certified plastic surgeons to help prepare the skin in advance of face and eyelid surgery as well as skin resurfacing procedures like Fraxel. Our treatments are carefully formulated to optimize the healing process after surgery and laser treatments. By pre-treating the skin with superficial peels and topical corrective products, we stimulate skin cell turnover to expose healthier skin that will heal better and look great. It is important to adhere to your personalized skin care plan, as recommended by our skin care team, to maintain the results of your procedure and continue to improve the overall health of your skin.